Perceived Value - Deep Thoughts
Please consider writing a Google Review for us. Log into your Google Account, search for Creekwood UMC, then find the "Write A Review" button and you're on your way.
###
Final Devotional
For those new to Creekwood, each Advent we invite a mixture of staff and laity of all ages to bless us with their devotional thoughts to a specific question. You'll notice we are starting at "Day 2" because Day 1 was Sunday, and the message can be experienced in worship (in person and online). I hope these devotionals bless you each day, and help you envision the presence of Christ fully into your life.
The question this year:
"What do you think of when you hear the expression 'Kingdom of God'"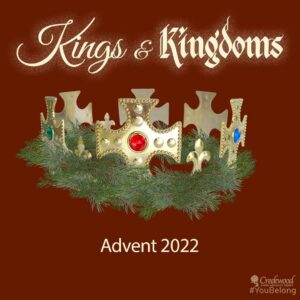 This will be the last of the Advent devotionals going out, since tomorrow we will gather to celebrate the birth of our Savior. You will see the schedule below, and please note that the barn services will be relocated to room 110. We have done our best to create an "outdoor" feel to room 110, featuring the view over the pond, because we know how much worship in the barn means to many people. A reminder, too, that all services will have communion except for the 1pm Family Service. I also hope that you will invite your friends, neighbors, and enemies to worship with you as we welcome heaven coming to earth at Christmas. For the many who are sick, know that we will stream the services at 5pm and 7pm.
As I reflect on the majority of what has been communicated through our devotionals, I've been inspired by how many of us strive to see the Kingdom of God all around us or expect to see it come to us here and now. Historically, this has been the hope of the church. There has always been a belief in heaven, but early Christians and the majority of church history has focused its hope on the resurrection – the Kingdom come here on Earth.
The Good News that you've noticed, is that we don't need to wait to experience it.
This is what Paul said about Jesus' birth:
Philippians 2:5-7 :: "Let the same mind be in you that was in Christ Jesus, who, though he was in the form of God, did not regard equality with God as something to be exploited, but emptied himself, taking the form of a slave, being born in human likeness."
This is what Jesus said about his coming:
Luke 4:18-19 :: "The Spirit of the Lord is upon me, because he has anointed me to bring good news to the poor. He has sent me to proclaim release to the captives and recovery of sight to the blind, to let the oppressed go free, to proclaim the year of the Lord's favor."
And this is what we are to expect:
Revelation 21:3-4 :: "And I heard a loud voice from the throne saying, 'See, the home of God is among mortals. He will dwell with them; they will be his peoples, and God himself will be with them; he will wipe every tear from their eyes. Death will be no more; mourning and crying and pain will be no more, for the first things have passed away."
Throughout our devotionals, I've read your expectation of Good News and your willingness to help bring it about. Because I believe we recognize Jesus as more than a baby born in a manger. I believe we recognize Jesus as a humble yet powerful King who leads us to what we all dream of. This Christmas Eve, I pray your hearts are open to the power of God's arrival, and in the New Year I pray our minds are open to the transformation of our lives by God's Holy Spirit.
If I don't happen to see your or get to chat with you on Christmas Eve, I hope you have many wonderful celebrations. I hope you go ahead and set your DVR for the Cowboy game so you don't worry about it at church. I hope you get a fantastic gift and give even more fantastic gifts. I hope you let someone you love know that you do. And I hope the presence of Christ is so thick you can't help but feel it.
Merry Christmas and Peace on Earth,
David Lessner
As a Financial Update, we are still in need of around $150,000 to close out the year at $0. We have made significant progress since the beginning of November, so thank you to all who have given a little bit more. We have made the adjustments for next year's budget in order to be faithful stewards of God's resources, but a special Christmas gift this year towards the ministries of Creekwood would be greatly appreciated. We can do this if we all chip in together! You can give Saturday during Christmas Eve, Sunday during church at 9:45, or by clicking on the green button below. If you'd like to make a stock transfer, please contact Rusty .Nickols
Financially Support our Ministries