We asked some people at Creekwood to answer one of two questions:
"What is your favorite Christmas carol,
and what does it tell you about God?"
or
"How do you hear God speaking in the world today?"
We hope you find hope, love, joy, and peace as you hear God speak through these daily devotional reflections.
For as long as I can remember, O Holy Night has been my favorite Christmas song. When I was in middle school and burning mixed cds was all the rage, I made a compilation of 12 different artists singing O Holy Night. It's a Christmas miracle my family didn't misplace (i.e. throw away) the cd after the first time I played it. Something about the song has always given my constantly processing and planning brain an immediate sense of peace. Within hearing the first 3 words, O Holy Night, I've noticed my body has a subconscious reaction of taking a deep breath which would be imperceptible except for the fact that I can feel my body exhaling a sigh of stress I didn't know I was holding in. Not only does the song cause a mental and physical reaction for me, but it's a spiritual reminder of what the season is truly about. Amidst the hustle and bustle of the season, hearing this song never fails to stop me in my tracks and create an unexplainable calm. I truly enjoy the holidays- shopping, baking, parties, kid's activities, church functions, wrapping, travel, etc. But as I rush through the busyness of one activity to another, there's a restlessness that seems to occupy my spirit from Thanksgiving until Christmas. It seems like these four weeks are shorter than any other four weeks, and it seems to go by quicker and quicker each year. For every item I check off my to do list, three more get added. I take time to prepare so many aspects of the the holiday, but I forget to take time to prepare my heart. This song does that for me each time I hear it whether at church, in a busy store, or driving in the car. For 4-5 minutes, I'm reminded of the hope that is coming.
As I sit here writing this and thinking about my natural gravitation towards the song, examining the lyrics I realize so many deeper reasons explaining why I've been drawn to this song for so long. I am a huge empath, enneagram 1, and social justice warrior. For as long as I can remember, I've wanted to be a part of making this world a better, more equitable place for everyone.
Long lay the world in sin and error pining,
Til he appeared and the soul felt his worth.
A thrill of hope, a weary world rejoices
For yonder breaks, a new and glorious morn.
The lyrics in the first verse describe the vast array of the human experience: pining, soul, worth, thrill, hope, weary, rejoices, new and glorious. The empath in me feels each of these emotions deeply in my core when I hear these words sung. My personality is prone to notice all the ways in which this is a soul crushing world and absorb the despair. Glennon Doyle puts it best when she describes living as brutiful, a constant mix of brutal and beautiful experiences. This verse takes the roller coaster of emotions and ends with a line of hope, of something new and glorious coming into the earth that will overpower the despair.
Truly He taught us to love one another;
His law is love and His Gospel is peace.
Chains shall He break, for the slave is our brother
And in his name, all oppression shall cease
The last verse reminds me of who Jesus truly is and what Jesus embodies, love. It inspires me to continue to hope that this world may someday be full of love, peace, and inequality, and free from poverty, war, famine, discrimination, and hate. During Christmas, not only do I celebrate Jesus' birth but the hope that I so frequently lose seeing the news and inequities of the world is reborn.
Lyndsey Lessner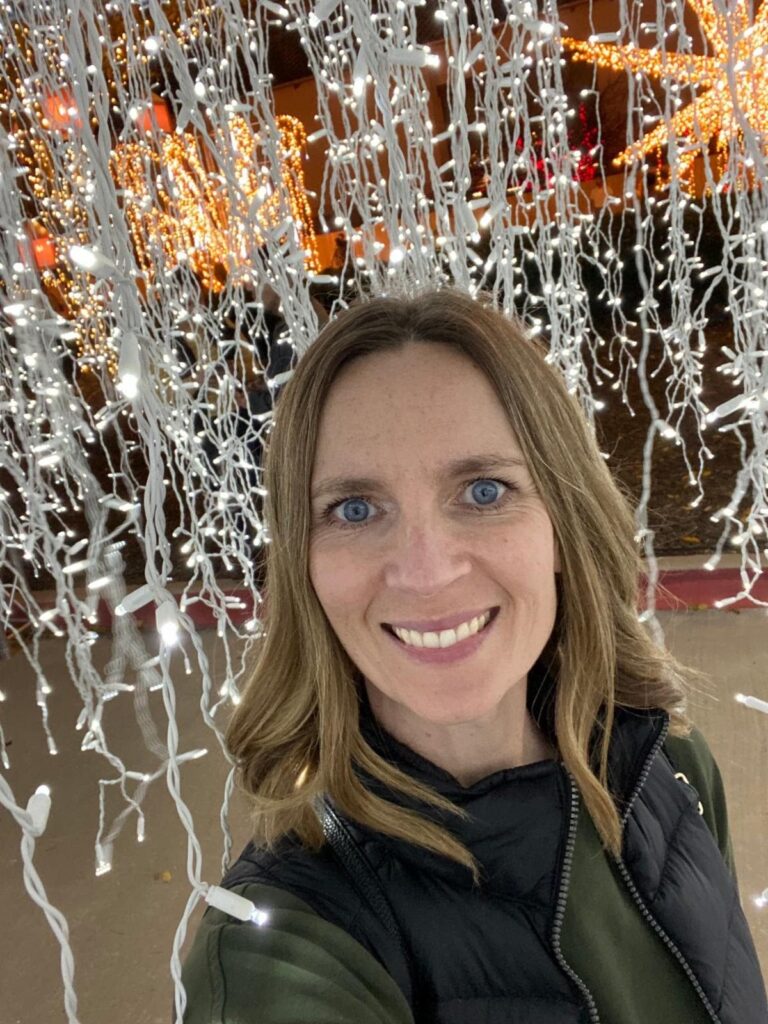 ---